Afforestt workshops provide an opportunity for people to learn how to create their own forest in an interactive, experiential and hands-on manner. To put it simply, it's an interesting mix of classroom sessions and actual outdoor forest creation.
The workshop and forest creation happens in the following phases:
Phase I- Site preparation and material procurement
The workshop organisers are guided remotely or on-site to help them prepare a 100-200 square meter patch of land for forest creation. Key steps such as species' selection, procurement, biomass selection and quantification, and site-readiness is explained through SOP documents and case studies.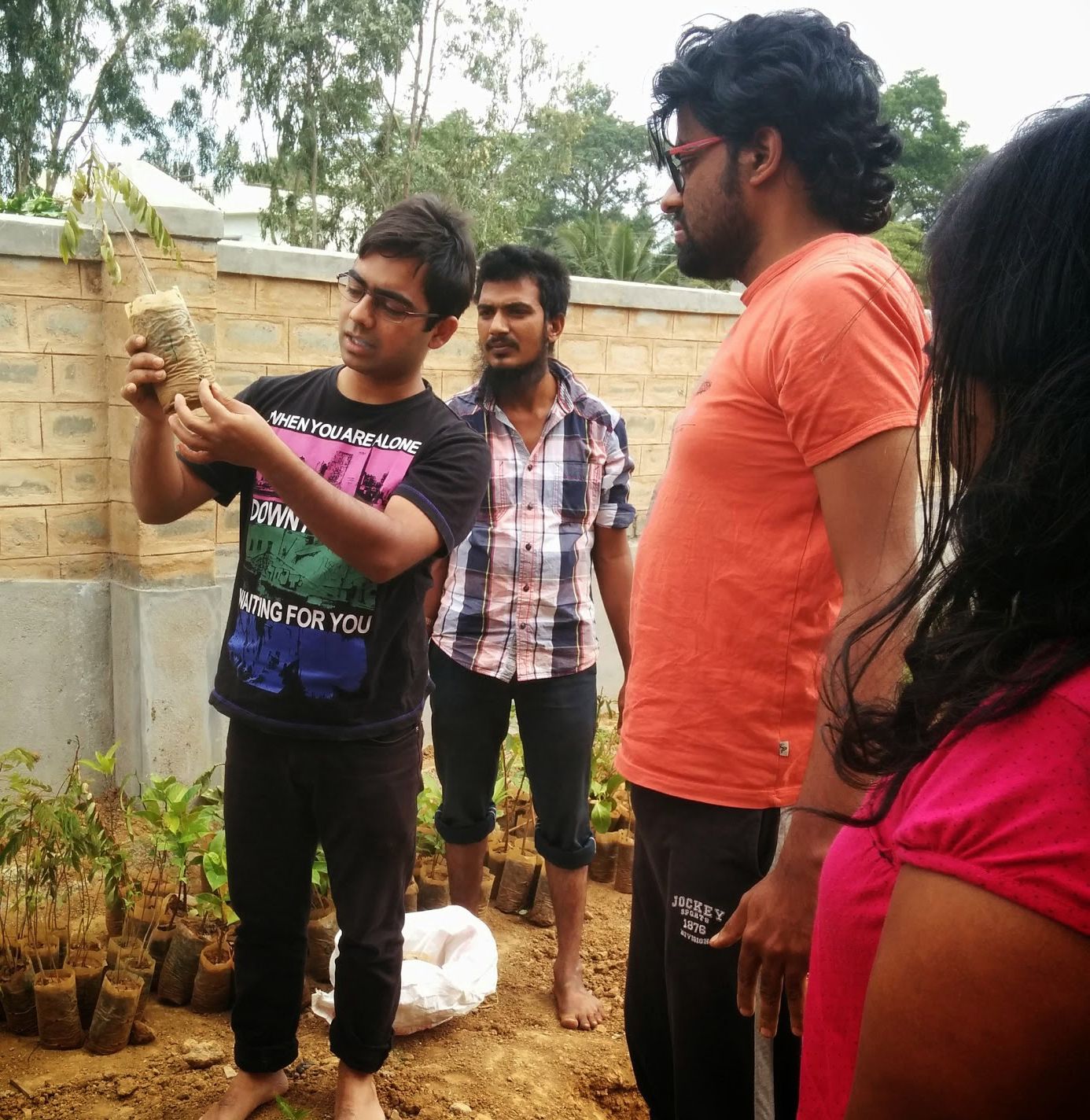 In this phase, Afforestt works closely with the trainees to help them achieve the following:
Species Research
Potential Natural Vegetation (PNV) mapping and database development
Species selection, quantification and order list
Soil study and analysis
Soil nourishment material research, selection and quantification.
Quality specifications for all consumables/non-consumables.
Quality checking of all materials at source
Preparing a 'Bill of Material'
Creating the execution design
Phase II - Forest creation Workshop
A 5-7 day workshop will be facilitated by Afforestt to create the pilot forest patch and help the trainees learn practical application aspects of forest creation. The following areas of work are thoroughly covered:
Tools, equipment and machinery selection.
Train the workers and machine operator(s).
Earthwork and soil preparation.
Saplings' layering, arrangement and plantation.>
Mulching and mound protection.
Sapling support and safeguarding.
Forest maintenance.
Growth monitoring
Key outcomes
The trainees become forest creators by being involved in the entire process.
A 200 square meter pilot forest patch gets created.
Duration: 5-7 days
Maximum number of trainees: 6
Costs
Afforestt's Fee to conduct the workshop: $10,000/₹6,00,000 (excluding applicable taxes).
Travel and accommodation for 2 Afforestt personnel.
Material, manpower and machinery for forest creation (dependent on availability and local supply chain).
Terms and Conditions
A small piece of land (minimum 100 square meters) should be readily available for forest creation.
Minimum requirements – running water, fencing, exposure to sunlight and maintenance staff for watering and deweeding.
Preference will be given to individuals with little or no experience in similar work, and/or owners of small land areas waiting to be afforested.
If you are interested to invite us to conduct an Afforestt Workshop at your place, send us your brief profile and a 'Statement of Intent' (150-200 words) on training@afforestt.com. Mention 'Afforestt Workshop' in the subject line.